China Prefabricated houses use light steel as the skeleton, sandwich panel as the enclosure material, and uses standard modulus series for spatial integration, and then the components are connected by bolts to build an environmentally-friendly and economical prefab modular buildings. It can be assembled and disassembled conveniently and quickly, realizes the general standardization of temporary buildings, and establishes an environmentally friendly, energy-saving, fast, and efficient construction concept, and makes the temporary housing enter a series of development, integrated production, supporting supply, inventory, and availability. The field of stereotyped products is used for many times of turnover.
K type Prefabricated House
T type Prefabricated House
Quality Prefab House is one of the best suppliers of panelized prefabricated houses and prefab homes that have become a potent requirement in the construction fields.
We have all kinds of prefab homes and similar solutions like prefabricated dormitory, temporary buildings schools, portable classroom buildings, container commercial buildings, affordable prefab homes, prefab camps, prefab worker camps, prefab offices, prefabricated porta cabins, flat-pack site cabins, prefabricated construction, pre-assembled buildings, field hospital container, ablution container, modular medical center, portable school buildings and other kinds of homes.
Benefits of Prefabricated Houses
Save Time. 100sqm only need 4 workers 1 day
Competitive Price.
Compared with traditional construction products, cost-saving more than 50%
Save Shipping Cost. It can load about 300sqm /40HQ
Light Steel. It can load about 300sqm /40HQ
Easy to Install. Only need video and drawing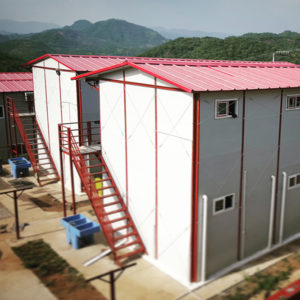 What's the advantage of prefabricated house?
Cost-effective: Prefabricated houses are generally cheaper than traditional houses. The cost of building a prefabricated house is significantly lower than building a conventional house.
Quick construction: Prefabricated houses are built in a factory and then transported to the site for assembly. This process is much faster than traditional construction methods, which can take months or even years.
High-quality construction: Prefabricated houses are built in a controlled environment, which ensures that the construction is of high quality. The materials used in prefabricated houses are also of high quality, which ensures that the house is durable and long-lasting.
Energy-efficient: Prefabricated houses are designed to be energy-efficient. They are built with insulation and other energy-saving features, which can help reduce energy costs.
Customizable: Prefabricated houses can be customized to meet the specific needs of the owner. They can be designed to include various features such as windows, doors, insulation, and ventilation.
Eco-friendly: Prefabricated houses are eco-friendly as they are made from recycled materials. They help in reducing the carbon footprint and contribute to sustainable living.
Low maintenance: Prefabricated houses require minimal maintenance as they are built with high-quality materials that are resistant to wear and tear. They also have a long lifespan, which reduces the need for frequent repairs and replacements.